Rally race enthusiasts can recognize the six-star Subaru design wherever they go. As the company made its name in the World Rally Championship, winning worldwide, it's not surprising that many don't know where these vehicles are manufactured. 
So, where are Subarus made, then?
Subarus are manufactured in America and Japan. The primary facility is in Japan, where both finished cars and car parts are sold in the national and international markets. Five total manufacturing plants sell to a global market. 
Subarus are popular cars, but few people know where they originated and are now produced. This article dives deep into the Subaru company and its famous automobiles.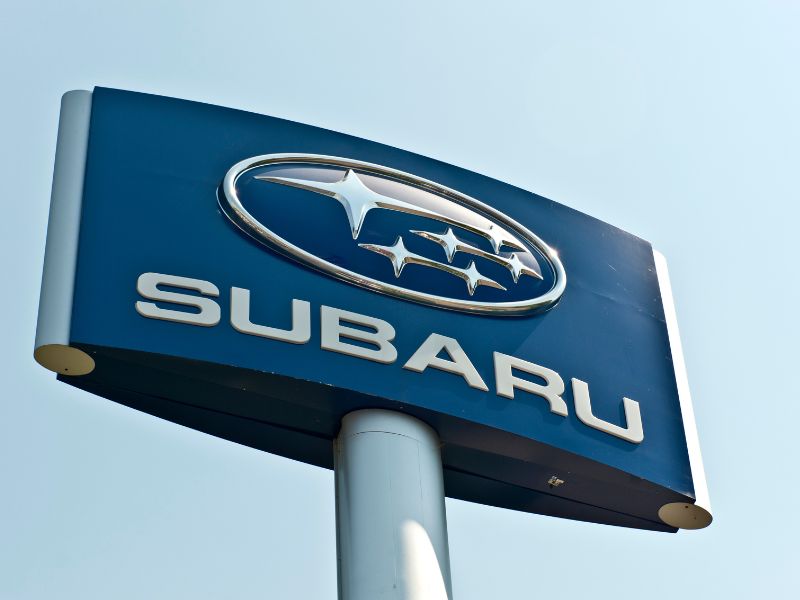 Where Are Subarus Manufactured?
If you guessed America, you're partially correct. Subarus are manufactured in an American plant, but they're the product of a Japanese company. 
Their popularity in America often gives the impression that they originated there, but it's a common misconception. 
Here's some insight into Subaru and its cars:
Facts and Figures 
In 2022 alone, Subaru sold 734,000 units. 
The primary plant in Japan produces 60% of the total cars. 40% of the remaining vehicles sold worldwide are made in the American plant.
The Japanese market, on average, only accounts for 10-15% of the total sales. The American market constitutes more than 70% of international sales. 
In pre-COVID conditions, American sales were roughly 700,000 Subarus per year, which fell to 600,000 in 2021. For other countries, their sales range is about 55,000 in Canada, 40,000 in Australia, and 30,000 around Europe.
Some popular models include:
Ownership and Management 
Subaru is owned by Japanese businessman Tomomi Nakamura who also acts as the president and CEO. The majority of the board members and shareholders in the company are also Japanese.  
The company employs 16,961 workers in the corporate sector, but over 36,910 thousand in total, including factory workers.
Subaru manufacturing plants are known to employ foreign workers seeking asylum in Japan. 
Workers are also gathered through labor brokers and traineeship programs. Roughly 30% of the workers in the Ota manufacturing plant are foreigners, who are required to have six months work visa by the government. 
Within the Subaru of Indiana (SIA) plant, there are 5,600 employees, including engineers, managers, variable workers, etc.
Alongside human labor, the facility uses 1,671 robots to manufacture parts and assemble cars.  
Production Plants
Subaru has five manufacturing plants. The two central plants are the Yujima Plant in Gunma, Japan, and the Subaru of Indiana Automotive, Inc., in Lafayette, Indiana. 
The Japanese plant is the primary production hub. It produces cars for the Japanese and international markets and supplies the US plant with technical components and vehicle parts.
The American plant is run by Subaru of America (SOA), a Subaru Corporation subsidy. They have now produced over 4,000,000 Subarus in their total running period. 
The plant continues to grow as the American market booms.
If you want to learn where your Subaru was built, you can use your car's Vehicle Identification Number as a reference. 
The VIN is written on the windshield or the passenger door frame. The first character indicates the country, the letter "J" is for Japan, and the number "4" is for America. 
Another tip is checking the 11th character, where a letter indicates Japan and a number stands for America.
The History of Subaru Cars
The Subaru Automobile Division is a part of the present-day Japanese Subaru Corporation. 
It was introduced in 1953 and reached America in 1968. It was established in Ebisu, Shibuya, and even though the company has spread sales worldwide, its headquarters remains there. 
The division was initially created for aircraft development and research under the name Nakajima Aircraft Company but later changed to Subaru. It was famous for manufacturing aircraft and engines during the Second World War.
However, the company's origins date back to 1915, when the company was known as Fuji Heavy Industries, acting as an aircraft research laboratory. 
The company has come a long way since. They've expanded on both their aircraft and automobile production. 
Subaru is now the 21st largest automobile manufacturer in the world. It produces roughly 1,000,000 cars per year. They've also gained access to Toyota's resource network after Toyota bought 20% of its shares and became their largest shareholder.
In their international sales, 75% of the cars are still produced in Japan. They have an extensive network from Asia to Europe, with an ever-growing market in North America.
Final Thoughts On Where Subarus Are Made
Subarus are a household name for fast cars with unbeatable engines. Regardless of the worldwide fame the company has garnered, Subaru has kept its roots within Japan. 
Most of its production is done at the four manufacturing facilities in Japan; however, it has expanded to the US to facilitate its international consumers.
FAQs
What Engine do Subaru Cars Have?
Subaru is known for its high-torque Boxer Engines. They are a staple in all their cars, so if you want this high-powered engine, you aren't limited to any specific model.
Are Subarus Used in Motorsport?
The primary catalyst for the popularity of Subarus in America was their use in Rally racing. The company quit rallies in 2008 but was a crowd favorite in the World Rally Championships every year they would compete.
Are Subarus American or Japanese Cars?
A common misconception is that Subarus are American cars. They are Japanese cars that have a production plant in America. The company has maintained its headquarters in Tokyo, Japan and the majority of their production.