The Subaru Forester is generally considered a reliable vehicle, and even though it is from a Japanese car manufacturer(known for its reliability) just like the Toyota RAV4, it does have some problems.
The Subaru Forester suffers from high oil consumption, broken coil springs, CVT transmission issues, unwanted acceleration, and parasitic power drain. 
To help you make a more informed decision, we've broken down these issues below and looked at some Forester recalls you need to be aware of (especially if you have one of these models).
5 Common Subaru Forester Problems
1. High Oil Consumption
The 2.5-liter boxer 4-cylinder is the main culprit with this issue. It started in 2014 and remained a problem with the motor until 2017.
The worst reports from vehicle owners were 1 quart (0,95 liters) of oil after every tank of fuel used (plus or minus 380 miles or 612 kilometers).
Subaru says any oil consumption under 1 quart over a distance of 1,200 miles (1,931 kilometers) is normal, which should not be the case.
The only solution for this problem is a total engine replacement that can cost up to $6,600 or keep topping up your oil but put the right amount in.
2. Defective Coil Springs
Many Forester owners notice that their car is leaning to the side or back while driving or after a drive.
Usually, the rear coil springs snap, and it happens at around 60,000 miles (96,561km).
This is a factory defect on the 2014 year models, and it cost up to $1,150 to replace both rear coil springs. 
Replacing just one coil spring is a big no-no since the one that hasn't broken is a ticking time bomb just waiting to break.
3. CVT Gearbox Issues
In the 2014 model year, the cars sold with CVT (Continuous Variable Transmission) transmissions had a lot of issues.
This ranged from flat spots while accelerating, bogging down, bucking, lurching at lower speeds, and stuttering while cruising.
Some owners had luck by replacing the CVT valve body, while others only needed new transmission oil, and the others were not as lucky and needed a total gearbox replacement.
4. Unintentional Acceleration
This problem was only in the 2015 model year of the Forester. 
Owners complained that under braking at low speeds, under 10 mph (16 kph) when they applied the brake, the car would start accelerating. 
In most cases, the engine would overpower the brakes and result in the driver colliding with another car, structure, or tree.
5. Parasitic Power Drain
On the 2019 model year Subaru Foresters, the cars suffer from power drain due to an issue in the vehicle CAN system (Controller Area Network).
The CAN system does not go into sleep mode when the vehicle is powered off, causing it to drain the battery.
Many owners get back to their cars after they stand the whole night just to find their Forester not able to start.
There is a class action lawsuit about this issue, and we will have to see how it turns out for the consumer.
Subaru Forester Recalls
While many Subaru Foresters have been recalled, many out there were still not repaired, so consider these problems when buying a second-hand Forester. 
If you own a Forester, take your vehicle to a dedicated Subaru dealer to rectify these problems as soon as possible.
2012 Recalls
2009 to 2012 model-year vehicles with automatic locking retractors in the rear center seat belt assembly do not meet lockability requirements and fail to comply with occupant crash protection, specifically child restraints in that seat position.
2009 to 2012 model-year vehicles with puddle lights equipped can develop a short circuit at the puddle light or the connector to the puddle light due to moisture and can result in the plastic melting, smoking, or even catching fire.
2013 Recalls
2013 model-year vehicles have carpet floor mats with a backing that is not manufactured to specification and can cause the floor mats to curl when exposed to heat. This can cause interference with the accelerator pedal and cause unwanted acceleration.
2014 Recalls
2009 to 2013 model-year vehicles have a problem where salt water could splash on the brake lines through a gap in the fuel tank protector resulting in the lines corroding that can cause future brake fluid leaks and loss of brake performance in the areas where salt is used on the roads in the winter.
2016 Recalls
The 2015 Forester 2.0XT model's turbocharger air intake duct may crack and possibly result in an engine stall.
2009 to 2011 model-year vehicles may have been installed with curtain airbags inflators that can rupture because of propellant degradation due to high humidity and moisture exposure.
2009 to 2013 model-year vehicles have a relay that controls the secondary air injection pump that can fail, which causes the pump to continuously run and overheat and melt or catch fire.
2017 Recalls
2009 to 2012 model-year vehicles may have been installed with curtain airbags inflators that can rupture because of propellant degradation due to high humidity and moisture exposure.
2018 Recalls
2018 model-year vehicles may have a Certification Label indicating the incorrect wheel size, tire size, and air pressure.
2019 Recalls
2010 to 2013 model-year vehicles may have been installed with curtain airbags inflators that can rupture because of propellant degradation due to high humidity and moisture exposure.
2019 model-year vehicles have a connector inside the Electronic Power Steering (EPS) unit that may short circuit and result in loss of power steering.
2014 to 2016 model-year vehicles were exposed to certain contaminants that may cause the brake light switch to not work, preventing the brake lights from turning on when braking and preventing keyless ignition vehicles from starting and preventing CVT transmissions from shifting to park.
2009 to 2013 model-year vehicles are equipped with mechanical key ignition switches has a ball spring inside the switch that can break. This can cause the key to move out of the run position causing the engine to turn off.
2015 to 2018 model year vehicles equipped with heated seats have an electrical connection that may become loose in the front passenger seat resulting in the Occupant Detection System deactivating the passenger airbag.
2019 model-year vehicles have an aluminum Positive Crankcase Ventilation (PCV) valve that can separate, causing the separated components to enter and damage the engine.
2020 Recalls
2009 to 2013 model-year vehicles recalled with airbag replacement must be replaced again because the airbags used were from the same design and resulted in the same problem.
In 2019 model-year vehicles, the rear stabilizer bracket bolts may loosen or detach, causing the rear stabilizer to shift and increasing the chances of a crash.
2018 model-year vehicles have a low-pressure fuel pump inside the fuel tank than may fail to cause the engine to stall.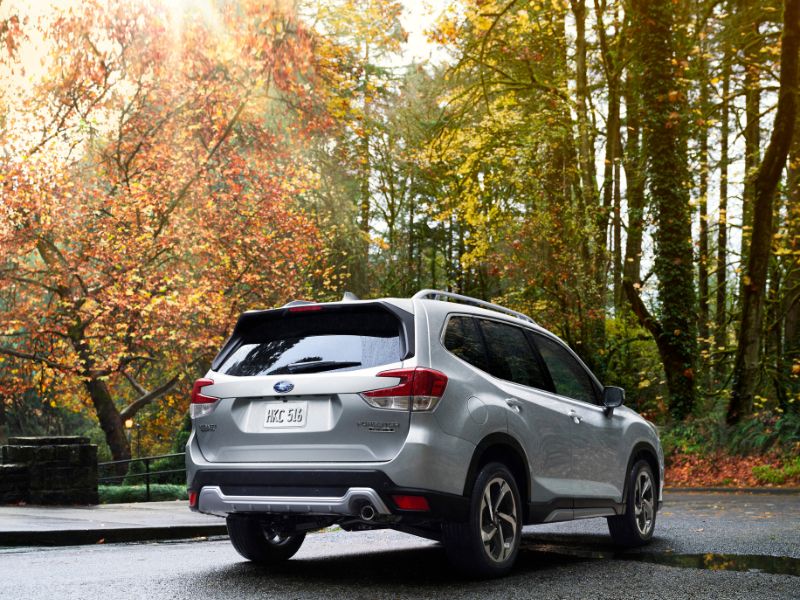 Final Thoughts On Subaru Forester Problems
While Subaru did fix many issues, some big ones are still doing the rounds, like the excessive oil usage of the 2014 models and the 2014 to 2017 models with the CVT issues.
There are also a number of recalls you should be aware of when shopping on the second-hand market.
The best thing to do if you own a Subaru Forester is to take it to a Subaru dealership and have them check for any recalls that haven't been completed.
If you are in the market for a used Subaru Forester, get a full vehicle history report and avoid any models with an outstanding recall.
Hopefully, you found this article helpful, and you can go to your next Forester test drive knowing what to look out for.
FAQs
Are Subaru Foresters A Reliable Car?
Yes, only the 2014 to 2019 model year cars are flawed, as described in the article, while all other models were as reliable as you would expect from a Japanese automaker.
Do Subaru Foresters Have Transmission Problems?
Yes, between 2014 and 2017, Subaru had numerous issues with the automatic CVT transmissions. Common things that would happen is the car bogging down under acceleration, bucking and lurching at lower speeds, and stuttering while cruising.
What Is The Most Reliable Year For Subaru Foresters?
1998 model year is the most reliable, but the entire production years of the first generation, 1998 to 2002, was the most durable and reliable generation of Foresters.