The Subaru Crosstrek started production in 2016, and even though it is a Japanese auto manufacturer (known for its reliability), it has some problems.
The Subaru Crosstrek suffers from windshield cracking, ignition problems, factory defect radios, acceleration hesitation, parasitic power draw, sunroof glass failure, and misaligned suspension.
To help you make a more informed decision, we've broken down these issues below and some Crosstrek recalls you need to be aware of (especially if you have one of these models).
7 Common Subaru Crosstrek Problems
1. Misaligned Suspension
This problem was only in the first year of production and only affected a limited amount of vehicles, but it is enough to be a common issue for the 2016 Subaru Crosstrek.
Many owners complained about the vehicle pulling toward a particular side of the road and causing constant driver input while driving on a straight road, which can cause fatigue.
The fix is the re-alignment of the suspension components.
2. Ignition Barrel Problems
Quite a strange fault and not something you hear of often. The 2017 Subaru Crosstrek's key can get stuck in the ignition barrel and even get stuck so that it can't be moved to the off position. 
This means the owner has to leave the engine running and the key inside the vehicle, which is a theft risk.
There were even issues of owners not being able to start the Subaru when the car's key got stuck in the ignition barrel in the off position.
Some owners had issues where the vehicle started in the garage without the car's keys close to the car.
The fix is replacing the ignition barrel and testing the connection between the neutral switch to the clutch on the manual vehicle and the park switch on the automatic models.
3. Unexpected Windshield Cracking
This problem is a manufacturing defect that caused the windshield of the Subaru Crosstrek to crack unexpectedly, and it affected models up to 2018.
It happens in warm or cold weather, and with many years of experience in the windshield industry, I can only imagine that the windscreen is mounted in such a way that temperature changes drastically in a short time can cause the windshield to expand or contract, and if the adhesive used is applied too thin or it is a tough adhesive, it can cause unexplained windshield cracks.
The fix is to fit a new windscreen with the suitable adhesive and amount used.
4. Factory Radio Defect
The factory-fitted infotainment system in the Subaru Crosstrek is plagued with numerous issues.
The radio can randomly just mute and unmute while the infotainment is on. 
It also has issues with connection to apple and android devices connecting and disconnecting randomly.
The entire system will randomly turn on and off, and it can even factory reset itself; thus, owners of the Crosstrek lose all presets saved on it.
The worst time for this is when people use the navigation or the backup camera.
So far, there isn't a fix mentioned; many people had their infotainment system replaced to no avail and numerous updates on the software side of things.
5. Hesitation Under Acceleration
Numerous owners of the Subaru Crosstrek have issues with the vehicles bucking and resisting to accelerate at lower RPMs.
It mainly affected the manual versions of the Crosstrek, but some have complained about the issue with the automatics as well.
It is sometimes so bad that the vehicle can stall and put the occupants in danger, especially in the middle of a crossing or in a blind crest or corner.
When the owners mention what the car does and sorts itself out after an ECU reset, it sounds like an electronic throttle issue.
6. Parasitic Battery Drain
Many owners of the Subaru Crosstrek also suffer from parasitic battery drain.
A parasitic drain is when one of the car's non-security electronics doesn't completely turn off when the vehicle is off, this can range from the infotainment system, a light, and even a constantly powered switch.
This is bad for the vehicle's battery and can cause it to fail over time because it is drained under the recommended minimum voltage, which in most cases is 9 volts.
It drains so fast on the Crosstrek that some owners leave the car overnight and will be greeted with a drained battery the following day.
Since the battery is completely depleted and, in many cases, cant be rejuvenated, it will need replacement.
One owner had this issue so bad that he is now on his third battery in two years, and so far, there seems to be no fix for the vehicles with this issue.
7. Sunroof Glass Failure
While it isn't as common as the windshield cracking, there is a chance that the sunroof can just explode, literally.
I believe the glass is under tension inside the frame it is mounted to, and since the glass is Armourplate glass, it is susceptible to being bent, so if the sunroof glass experiences drastic temperature changes and expands and contracts while being under tension, it can explode into little glass cubes.
Don't worry, as Armourplate glass is designed not to cut a person when it breaks.
Subaru Crosstrek Recalls
While many Subaru Crosstreks have been recalled, many out there were still not repaired, so consider these problems when buying a second-hand Crosstrek. 
If you own a Crosstrek, take your vehicle to a dedicated Subaru dealer to rectify these problems as soon as possible.
2017 Recalls
2017 model-year vehicles may be equipped with the incorrect floor mat retention bracket, allowing the floor mat to move and interfere with the accelerator or brake pedal operation.
2019 Recalls
2019 model-year vehicles have a connector inside the Electronic Power Steering (EPS) unit that can short circuit and cause loss of power steering assistance; this causes high steering effort.
2017 model-year vehicles exposed to specific contaminants may cause the brake light switch to malfunction, preventing the brake lights from working and causing the cars equipped with keyless entry not to start and vehicles with the CVT automatic transmission to be shifted into park.
2019 model-year vehicles may have a driver-side rear window glass that is improperly tampered with, which can cause the glass to shatter into large pieces and can cause an increased risk of injury.
2018 to 2019 model-year vehicles equipped with aluminum (PCV valve) Positive Crankcase Ventilation valve may come apart, and the separated components can enter the engine resulting in loss of power and engine damage.
2018 to 2019 model-year vehicles Engine Control Module (ECM) may continue to power the ignition coil after the engine is shut off, resulting in a short circuit and a blown fuse, causing the vehicle not to start.
2020 Recalls
2019 model-year vehicles with rear seat belt assemblies with dual-mode locking mechanisms, the seat belt webbing sensor locking mechanism may not lock as intended and thus may not correctly restrain occupants.
2021 Recalls
2018 to 2019 model-year vehicles may have loose rear stabilizer bracket bolts that can detach; this can cause the stabilizer bracket to shift and cause the vehicles to handle not as intended.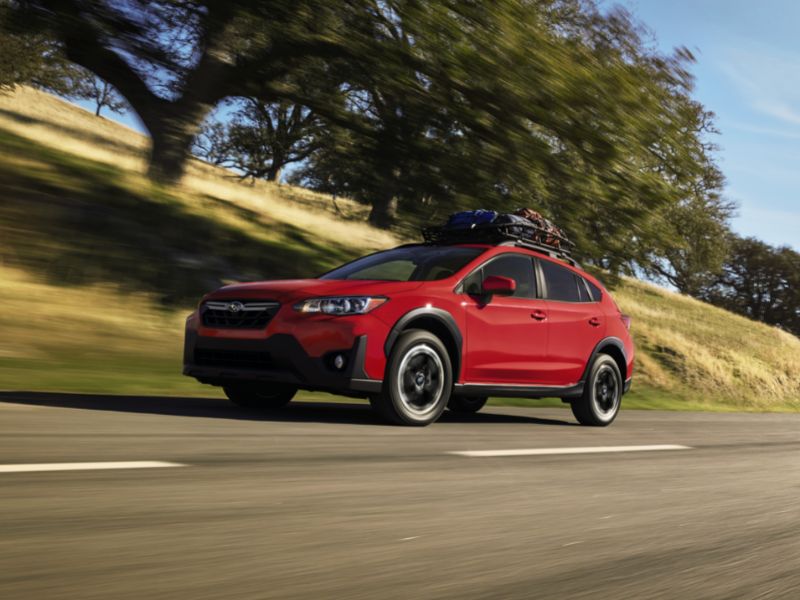 Final Thoughts On Subaru Crosstrek Problems
While the car is mechanically sound, the electronics and glass problems can be a deal breaker.
The best thing to do if you own a Subaru Crosstrek is to take it to a Subaru dealership and have them check for any recalls that haven't been completed.
If you are in the market for a used Subaru Crosstrek, get a full vehicle history report and avoid any models with an outstanding recall.
Hopefully, you found this article helpful, and you can go to your next Subaru Crosstrek test drive knowing what to look out for.
FAQs
What are the major problems with a Subaru Crosstrek?
The major problems are misaligned suspension, ignition barrel problems, unexpected windscreen cracking, hesitation under acceleration, parasitic battery drain, and sunroof glass failure.
Other than that, there are no major mechanical problems.
How reliable is a Subaru Crosstrek?
The Subaru Crosstrek is very reliable, scoring 81 out of 100 in the J.D.Power ratings in quality and reliability.
This places the Crosstrek in third place in the small SUV class with an overall rating of 83 out of 100, just edging ahead of the Toyota Corolla Cross.
Why is Crosstreks so popular?
It is a competent small SUV with Subaru's well-known symmetrical all-wheel-drive system.
It also boasts outstanding reliability, excellent handling, safety, and an eye-catching design.