While the Mercedes GLK is Mercedes's competitor in the compact luxury crossover market, as the name also implies, "Geländewagen Luxus Kompaktklasse" ( german for "All-terrain Luxury Compact class") but it does have some common problems.
The Mercedes GLK suffers from auto-up side windows not working, wind noise, NOx sensor problems, ticking sound from the engine, and transfer case failure.
To help you make a more informed decision, we've broken down all of these common issues and looked at some Mercedes GLK recalls you need to be aware of (especially if you have one of these models).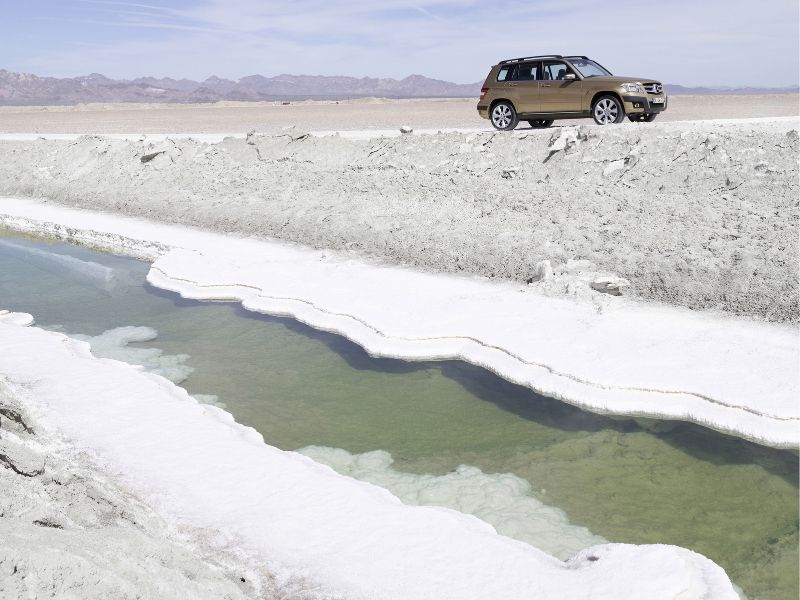 5 Common Mercedes GLK Problems
1. Auto-up Side Windows Not Working
The Mercedes GLK is fitted with auto-up side windows switches, and the window switches will reset themselves for no reason.
This usually happens on all cars with auto-up window regulators when the battery is disconnected and reconnected, but on the GLK, it happens randomly.
Luckily you can hold the window button down for a few seconds and then up for a few more to recalibrate it, but it is a nuisance to do it repeatedly.
2. Wind Noise
On some Mercedes GLK models, the owners experienced wind noise from the front of the vehicle.
It even had a few Mercedes dealerships stumped as they taped up numerous body gaps to determine where the noise was coming from.
One head technician from Mercedes finally found the culprit, and it was a seal inside the heater matrix that was faulty.
Here is the direct quote from the service report published on MBWorld:
"CONFIRM CUST COMPLAINT, FOUND WHISTLING NOISE FROM CAR AT HIGHWAY SPEEDS, PERFORM EXTENSIVE TEST DRIVE, APPLIED TAPE TO ELIMINATE NOISE FROM WINDOWS OR SUNROOF, R/R WIPER COWLING, FOUND NOISE WOULD GO AWAY WHEN TAPE WAS APPLIED OVER AIR INTAKE FOR OUTSIDE ON HEATER BOX, R/R GLOVE BOX, FOUND NOISE COMING FROM SEAM ON HEATER BOX, SEAM WAS CAUSING WHISTLING NOISE WHEN OUTSIDE AIR WOULD ENTER BOX AT HIGHWAY SPEEDS, DRAIN COOLANT, EVAC AR/C SYSTEM, R/R DASH AND DASH SUPPORT, R/R AND A/C HEATER BOX, USED BUTTLECORD TO SEAL A/C BOX, REINSTALL A/C BOX, RECHARGE A/C SYSTEM, CORRECT COOLANT LEVEL, RETEST DROVE AFTER REPAIR, FOUND WHISTLE WAS ELIMINATED, CLEAR CODES, ALL O.K NOW."

gsrjc – MBWorld
3. NOx Sensor Problems
The GLK diesel model has many emission filters, from the diesel particulate filter exhaust gas recirculation, and now even DEF (Diesel Exhaust Fluid).
The DEF system has an injector that injects the aqueous urea solution into the vehicle's exhaust. 
Then there is a filter that catches the nitrogen oxide, and the residual nitrogen oxide is measured post-filter by the NOx sensor.
In some GLK models, the DEF injector didn't inject enough DEF fluid resulting in the NOx sensor gunking up with contaminants and the check engine light coming on.
The whole system is very selective, and Mercedes even asks the owners to use only name-brand diesel like Shell and BP and only use Mercedes MB OEM Bleu DEF.
4. Ticking Sound Form Engine
On the GLK350 models with the M272DE35 3.5-liter V6 engine, the owners noticed a ticking sound from the engine bay while the engine was running.
Many first thought the lifters in the engine's valvetrain caused it since it is common on a modern engine with hydraulic valve lifters to tick.
Some dealerships switched from using 0W-40 Mobile 1 engine oil to 5W-40 Mobile 1(a little thicker oil at start-up).
This thicker oil resolves the issue on these V6 engines.
5. Transfer Case Failure
In the 2010 model year, in 4matic GLK models, the transfer case that distributes the power from the engine to the front and rear wheels were prone to fail.
The GLK would start shuddering when turning and even make a loud thud; this was a telltale sign of the clutches inside the transfer case that were busy failing.
While most owners had these failures when the car was under warranty, some weren't so lucky and had to pay close to $9,000 for a new one.
Recalls
While recalls fix vehicle issues, there is still a chance that some cars never got fixed.
Either the owner did everything DIY or took it to a private mechanic who never knew about the recalls.
So it is advantageous for you as a potential buyer or owner of a Mercedes GLK to learn about these recalls. 
And if you already own a GLK, take your vehicle to a dedicated Mercedes-Benz dealer or trustworthy mechanic as soon as possible to rectify these problems.
2012 Recall
2011 to 2012 GLK350 and GLK350 4Matic vehicles, due to irregular stemming during the molding of the fuel filter flange, the flange can crack and start leaking, resulting in a fuel leak near an external ignition source.
2016 Recall
2010 to 2012 GLK350 and GLK350 4Matic vehicles have a frontal airbag with excessive pressure that can cause the inflator to rupture when deployed, resulting in metal fragments striking the driver and other occupants.
2017 Recall
2013 to 2015 GLK250 Bluetec 4Matic, GLK350, and GLK350 4Matic vehicles may have a steering coupling connecting bolt that is not tightened and can result in loss of steering and risk of a crash.
2014 GLK350 vehicles may have incorrect software uploaded to various control units in the car resulting in the incorrect deployment of the airbags in a crash.
2018 Recall
2013 to 2015 GLK250 Bluetec 4Matic, GLK350, and GLK350 4Matic have a frontal airbag with excessive pressure that can cause the inflator to rupture when deployed, resulting in metal fragments striking the driver and other occupants.
2019 Recalls
2014 to 2015 GLK250 Bluetec 4Matic, GLK350, and GLK350 4Matic have a frontal airbag with excessive pressure that can cause the inflator to rupture when deployed, resulting in metal fragments striking the driver and other occupants.
2013 to 2015 model-year vehicles may have a software issue with the eCall (emergency call) system that causes the date and time shown to the emergency services not to be accurate and can even cause false vehicle location data to be delivered.
Source: Kelly Blue Book
Final Thoughts On Mercedes GLK Problems
When we look at the Mercedes GLK reliability, we see it has very few faults compared to its siblings, the GLA and the GLE, with only the NOx sensor and transfer case being the two significant issues.
The number of faults is below average compared to other brands like Nissan and Jeep.
The best thing to do if you own a Mercedes GLK is to take it to a Mercedes dealership and have them check for any recalls that haven't been completed.
If you are in the market for a used Mercedes GLK, get a full vehicle history report and avoid any models with an outstanding recall.
Hopefully, you found this article helpful, and you can go to your next Mercedes GLK test drive knowing what to look out for and what Mercedes GLK years to avoid.
FAQs
What Year Did GLK Stop Production?
The production years of the Mercedes GLK were from 2010 to 2015, and it was replaced by the GLC, which is still in production now.
It was manufactured in Germany, China, Egypt, and Vietnam.
What Does GLK Stand For?
Geländewagen Luxus Kompaktklasse (All-terrain Luxury Compact class)
Mercedes is well known for giving meaning to its models' names and abbreviations.
What Replaced The Mercedes GLK?
The successor of the Mercedes GLK is the GLC which started production in 2015 and already has two generations.
Mercedes-Benz made the first generation up until mid-2022, and the second generation started production in June 2022.