Jeeps can typically take a lot of beating being all-terrain vehicles, and they can get scratches and dents, resulting in a dull look. Some people are uncomfortable seeing too many scratches. If you happen to have a scuffed-up hardtop and want to give it a refresh, can you paint a Jeep hardtop?
Painting the hardtop is possible if you want to renew your Jeep. However, there are multiple things to consider before painting, like why you're painting, the type of hardtop you're painting, the kind of paint you should use, and what method to use. 
If you are considering painting your Jeep's hardtop, this article has everything you need to know. So, let's get started. 
Why Should You Paint Your Jeep Hardtop?
Here are a few situations when it's ideal for painting the hardtop of your Jeep:
1. Poor Quality Paint 
If you used the wrong paint or had poor service, your Jeep might require some attention. If you didn't get the color you initially wanted, or the painter did a lousy job with the hardtop, repainting your Jeep is better so it can match your expectations. 
Mopar Jeep Wrangler Black Hard Top Touch-Up Paint is mostly recommended for this job. 
Note: You can check the reviews by clicking on the link. 
2. Direct Sunlight
Do you have a habit of parking your vehicle directly under sunlight? The intense sunlight can fade the paint of your Jeep and make it look dull.
If this often happens, you'll notice the color fading away, which can be fixed by repainting your Jeep's hardtop.
3. Dents And Scratches 
You probably love driving off-road on nature trails if you have a jeep. Even though jeeps are built strong, they can still get scratches passing through narrow roads, rock corners, overhanging trees, and hills.
To restore the original look of the Jeep, you'll have to repaint its hardtop. 
4. Accidents 
Even though jeeps are more stable than many other vehicles, accidents are sometimes inevitable.
In this situation, you will need to get some paintwork done on your Jeep.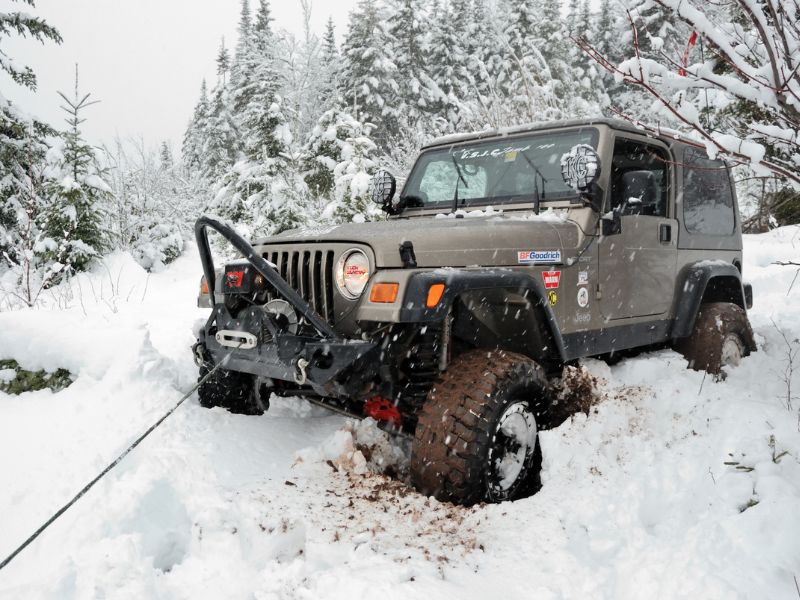 3 Things to Consider Before Painting The Hardtop
Here are the three things you need to research before you start paint prep for your Jeep hardtop:
1. The Type of Hardtop on Your Jeep.  
Typically, three hardtops are available. 
One-piece
Two-piece
And three-piece. 
Each of these has different considerations and offers unique benefits. This will help you evaluate whether the task is doable for you!
Note: Depending on your hardtop type, consider whether this is a job you can do by yourself or not.
2. Stock vs. Aftermarket Hardtop
Consider whether your hardtop is of the same quality as your Jeep or is it an aftermarket product. After that, you can decide the best method to layer the paint. 
The aftermarket hardtops are less expensive but can be of poor quality. This might result in a different shade in color and finish as compared to the Jeep itself. 
3. Other Alternatives
Painting the hardtop can be hectic, and if you don't want to put in the requisite time and effort, you can get it professionally done by, well, a professional.
You can also consider hiring people for tasks like wrapping the hardtop, sanding, or painting.
It'll require less prep and reduce the overall time and effort necessary for the paint job.  
Which Paint Should I Use On My Jeep Hardtop?
The hardtop of a Jeep is typically black since it goes with most car colors. Some people like to modify their hardtops to give their Jeep a unique look. 
The best paint on the refinished hardtop is automotive urethane or acrylic urethane paint. 
This task can be completed in your garage, given the ease of use and fast drying times of these paints. 
You can rely on these paints to give you a stunning hardtop since they are also weather- and UV-resistant.
Other vehicle paints are not as resilient as urethane, but you can still use them to paint the hardtop.
Jeeps come in a variety of models and types. Some of them feature a soft top that covers the cabin with high-grade cloth and locks on the Jeep's body. 
Some Jeeps, especially the more recent models, are equipped with three-piece hardtops. These complete panels can be mounted and detached from the Jeep's body.
Painting The Hardtop
You can opt for two approaches to painting:
Scratch top-up 
And the entire hardtop painting. 
Your choice of method will depend on the result you want to achieve. 
Jeep owners who want to hide the marks and scratches utilize the scratch top-up technique.
This method is relatively easy and will not need much sanding or surface cleaning. Visible scratches can quickly disappear by applying a light layer of paint. 
However, painting the entire hardtop is another method. Doing it all by yourself will require a lot of time. Here's an overview of how to paint the entire hardtop.
Step 1: To prepare the hardtop for painting, clean the top using the best detergent available on the market. The detergent will wash away dirt and debris stuck to the paint. 
Step 2: Start sanding to achieve a smooth surface after painting the top. The prep work is labor intensive since the outcome depends on how well you prepare the surface. 
Step 3: After sanding, you can mask your car before you paint the first layer. Once you're done painting, leave the paint to dry for up to 48 hours.
Here is an excellent video from nolimitpence on how to paint the hardtop of your Jeep:
Final Thoughts On Painting A Jeep Hardtop
Changing or renewing the color of your Jeep will give it a fresh look and style.
Painting the Jeep's hardtop yourself is a straightforward method to improve your vehicle at home with minimal costs.
If you'd instead not put in that much labor, you can ask your nearby auto shop to assist you with painting the hardtop of your Jeep.
FAQs
How Can I Restore The Appearance of My Jeep's Hardtop?
You can try washing it. If not, various solutions are readily available to give plastics and fiberglass their original black appearance. However, a brand-new, expert paint job is ideal for a vibrant appearance.
What To Do After You Are Done Painting The Jeep's Hardtop?
After painting, give the top 48 hours of cold, dry air to set. Keep it out of direct sunlight. Use lighter paints if you'd want to employ quick-drying paints.
What Other Paint Can You Use Except for Urethane? 
Automotive lacquer paint is another type of vehicle paint that can be utilized. This paint gives the hardtop a glossy appearance. However, it tends to fade more quickly than urethane paints.